<! -- list page: display the short version -- >
I love Dr. Seuss books. I like his limited colour palette and large areas of flat colour, so I copied him a bit. I'd like to know what you what you think. Does it work? Does it make you happy? Do you wish I had used some purple? (This book will contain no purple.)
The reason you're getting a coloured page is that I have hired a successful children's author to look at my story and tell me if it's any good or not and recommend changes that will help it on it's way to publication. I want her to have an idea of how the finished pages will look and there is no way I'm going to keep this little treat from you.
Here is a comparison of the original scan and the tidied and coloured page:
<! -- list page: display the short version -- >
By Richard Thomson. Found at Illustration Art
<! -- list page: display the short version -- >
A thing we old people like to do to amuse ourselves is to subscribe to 'blogs' via 'feed readers'. Many of you youngsters won't understand these things because you haven't found the secret click combination to get outside of Facebook or else you aren't sure what to do with writing that is longer than 140 characters. But some of you kids might want to experience the old-fashioned Internet. If that's you, there is a small chance you may enjoy some of the things on the non-exhaustive list of what I like to read and look at.
Comics, illustration, design
Lots of words in a row
Good blogs I'm not reading right now because I'm taking a break from American Christianity and politics
What do you like to read and look at?
<! -- list page: display the short version -- >
Constraints are better catalysts for creativity than complete freedom, so stop wishing for complete freedom.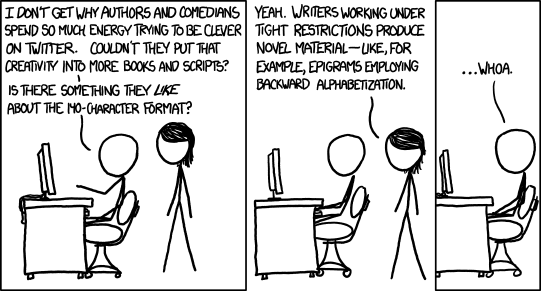 Comic by Randall Munroe, who is very creative, even though he has to work with the apparent constraint of not being able to draw people.